S01E23: Seaside Sitting with Future Funk Artist Sparkly Night – Interview
Listen / Subscribe on iTunes and Google Play

Meet Future Funk Artist Sparkly Nights. Co-founder of Seaside City Squad, massive influencer in the scene and today he's here to talk about FF and his music.

We'll explore his artist image, thoughts on future of Future Funk, Seaside City Squad and more.

He recently released a new single titled Lady Paradise that has gotten a lot attention and luckily you'll have a chance to preview view it at the end of the episode.
Interview outline
How did get come up with your name?
The name Sparkly Night was finalized after trying to come up with a name that fit the vaporware like aesthetic form of feeling. "The night in general and what the city looks like at night." he says, continuing with how we arrived with the Sparkly part, "How can I describe the night?"…"There are sparkles everywhere, so it's kind of cute and might basically be a cool thing".
How did you get into making Future Funk?
Originally Sparkly Night was a listener and came up with the scene during it's "hype-train" early days. After a while he decided he wanted to try doing it but in the early days wasn't exactly music but sounds. "It was basically something you wouldn't listen to.." describing it was a mess and it wasn't picking up Ableton that music making started making sense.
The idea behind using his own face in his personal image
Future Funk has a tendency to be more anonymous in nature sticking to anime characters, usually cute anime girls in front of a mainly male centered genre. Not a bad thing we both agree it's the foundation of the future funk genre… so when I asked Sparkly Night why he was using his own face as part of his artist image he had this to say…
"I was always kind of influenced by the idols of Japan and Korea as well. Especially the 80s and 90s era." continuing with, "if we [future funk artists] do music that's like kind of similar or like influenced by this era, why not become… and idol yourself". and that's totally an interesting point and one that hasn't been brought up with the various other future funk artists Musics the Hang Up has interviewed.
"if we [future funk artists] do music that's like kind of similar or like influenced by this era, why not become… and idol yourself"

Sparkly Night
That doesn't mean anime still doesn't have a place in future funk. As stated previously it was built on anime gifs, icons and the aesthetic. Even to this day on youtube, to get the highest views really does require some form of anime attraction to get people to click.
Whoa, You speak Japanese?!

Just like using his own pictures as a way to be an authentic Future Funk artist trying to emulate the Japanese style for 80s City Pop, Sparkly Night thought to really connect with the real Japan, learning the language and not just knowing the culture from the internet would be beneficial. "I discovered these Japanese language exchange meetings happening in Warsaw a few years ago but even before that, I tried you know to take Japanese classes". Taking a few in university as well.
Later he went to the UK living there for half a year he found a Japanese/Korean society claiming making friends with speakers helped out this language ability tremendously.
You can actually find blogs in Japanese put out by Sparkly Night that really show off his ability. I wonder how many Future Funk artists can claim they speak Japanese, impressive eh?
Future in Japan
In August Seaside City Squad member, KITSUNE (although shorted time wise) and him will be moving to Japan. Although probably maintain employment to survive, they will be keeping a focus on getting their music out to the Japanese audience.
He also stated that he'd be interested "…freelance jigs, as a musician and a DJ as well… seeing what happens". In addition to living over there, he'll have an opportunity to visit Seiko Mart, Japanese future funk label, which Sparkly Night already has had cassettes released with.
Releasing Beaches with Seiko Mart (Cassette out March 14/15 2019!)
Last year he had the opportunity to work with Seiko Mart. Stating he found out that they are a real Future Funk label actually out of Japan. (a lot of labels like to put they are from Japan on twitter when they are not).
So naturally he wanted to work with them. So he reached out with the hopes of them releasing his music on cassette. Luckily for him he had a little trick up his sleeve, writing a formally and informally in Japanese. Stating, "Thinking it would increase my chances maybe?".
Well hey, that Japanese is paying off eh because fortunately for him, they loved his stuff and ended up releasing his album beaches on cassette.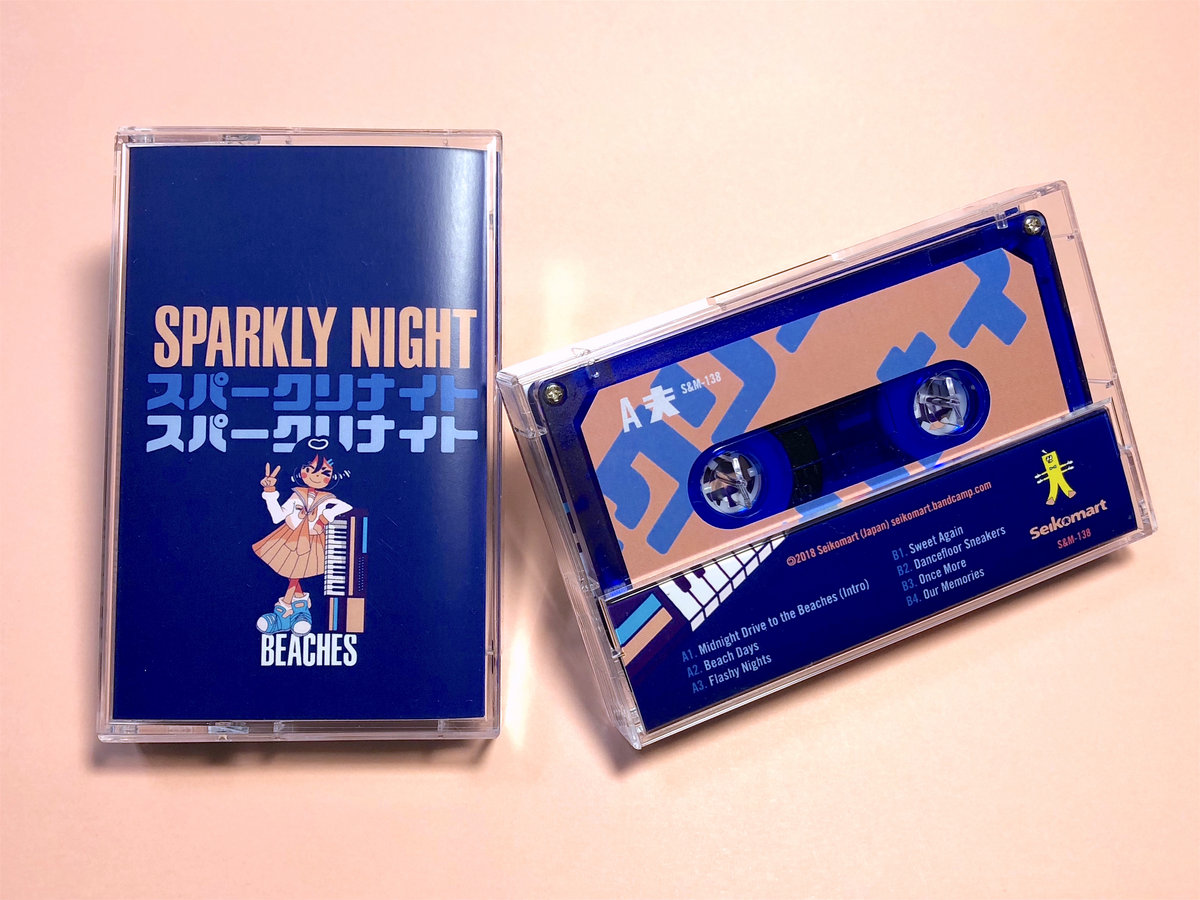 "Beaches" album is meant to evoke 80s/90s nostalgia with a modern touch. Fresh funky & synth sounds are the highlight of this production.
Pick your drink, lay back and enjoy as another day on the beach with your 恋人 or 友達 slowly turns into night full of memories to be made


https://seikomart.bandcamp.com/album/beaches
To Sparkly Nights surprise, he went to bed the night of the release and the next morning the cassette sold-out. Good news for his fans, a second release of Beaches on cassette is expected to be released March 14/15, 2019, so look for what on bandcamp in the near future.
…and so much more in the audio interview
Without spoiling the entire interview, we did discuss more of future funk, the anime he loves, his future plans for his music and of course more about his plans in Japan. It's a wonderful interview and completely worth the time to listen.
Listen / Subscribe on iTunes and Google Play
Check him out on Social media:
Instagram – https://www.instagram.com/sparkly_night/
Twitter – https://twitter.com/sparkly_nite
Bandcamp – https://sparklynight.bandcamp.com
Soundcloud – https://soundcloud.com/sparkly_night
Spotify – https://open.spotify.com/artist/7Emv7WrAiyGM2aqa9Lm0QN

Join Me on Social Media:
Twitter – https://twitter.com/MusicsTheHangUp
Instagram – https://www.instagram.com/musicsthehangup/
Discord – https://discord.gg/34RcqkN